by Ronald on Oct.08, 2013, under General, Media, Race events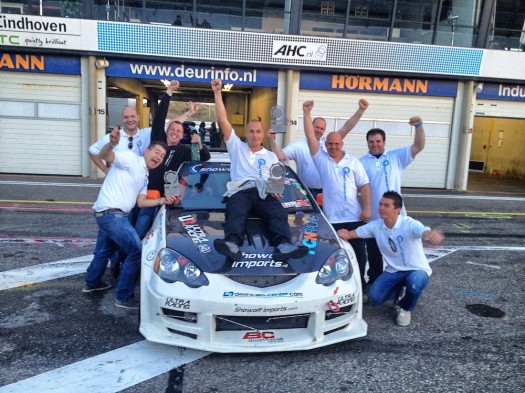 Wow! What a weekend!
Team Showoff Imports nailed it! 3 trophy's for our www.projectdc5.com Integra Type R!
It was a well packed event named Syntix Speed masters on Zandvoort that hosted 2 other events that we came for: The finals of the Dutch Time Attack series 2013 and the first ever edition of the European Time Attack Masters!
Lets start with the results for racedriver Ronald Gosens and our team:
- 1st Place European Time Attack Masters (NA Class).
- 1st Place of the day – Dutch Time Attack (Super Pro Class).
- 2nd Place of the season – Dutch Time Attack (super Pro Class)
Click 'continue reading' for a full coverage of this event including more pictures!

Our weekend started on Saturday, still running our shop and getting all bits and pieces ready for our trip to Zandvoort. We could have go a day before and do some testing on Saturday but we decided not to do so, fully confident the car was ready and our setup were strong after making the last changes earlier that week.
We arrived in Zandvoort around 6pm and started preparing our booth so we could represent our brands again to you people! After this we went to Centreparcs, with a mandatory detour through Zandvoort, scraping our cars… Reception closed, a long hike (at least it felled like that after a busy day) to the Hotel for checkin and 30 minutes later we were finally entering our bungalow. Then the beer bottles were opened and pizza's were ordered. We combined our midnight dinner with going through the race lines of the Zandvoort track once more, discussing where we could improve our laptimes. Somehow the whole evening we heard 'koekoek jonguh'. Time to go to bed…Ehm, where are our bed sheets, pillows and towels for showering? Oh damn… we had to bring our own. As you can see we are used to stay in Hotels instead of Centreparcs bungalows… oops!
Raceday:
Now back to the serious stuff: RACING!
We finished our booth early in the morning and were looking at a busy racing schedule with 2 warmups, 2 qualification sessions and 2 finals. We used the warmup sessions to get a good idea of the current setup and we had to run some km's on new tires. During warmup we had 1st places in our classes, and continued that in the qualification round; again for both the dutch and EURO time attack finished 1st. Our racing driver Ronald Gosens managed to set a PR of 1.59.1 in one of these sessions. Then time for the finals that are a bit different: No 20 minute session but only 1 chance to set a fast lap, this is time ATTACK! Again both finals Ronald managed to get his Integra DC5 over start/finish with a first place.
Our Brands:
HEL Performance: This weekend we had a focus on HEL Performance (Brakelines/clutchlines etc). Besides our own racecar, we as Benelux distributor were also helped generating exposure by having 2 wellknown UK cars present: Bo Neilsen in his Vauxhall and Richard Marshall in his newly built EVO 9 (870 BHP!).
BC Racing: Another brand you couldn't have missed is BC Racing: We as distributor were proud to see so many time attacks cars having BC Racing promotion! Many of the European Time Attack Masters cars were showing this strong brand!
Ultra Racing: Let's not forget a third brand here! As European distributor we couldn't miss the Time Attack Masters of course! You probably noticed the white bars on competing cars, yes, that is Ultra Racing! We even had a sponsored car over from Germany (RX7, Dominik) but unfortunately he pushed a bit too hard on track and ended up with a damaged frontend.
We also like to thank many other racing drivers that were representing Showoff Imports (like the HCN-R drivers!), appreciated a lot and we hope to continue this in the next season!
The Team:
Our team of mechanics (Reinier, Peter, Toine) deserve a special thanks! You have probably seen them around, with brand new Showoff/Motul mechanic overalls.
This whole season and even last weekend with 2 races in 1 day they managed to keep the car doing what it has to do: RACE! The setup was very good, the engine did its job the whole year and every small issue we had was solved in time for every next race or session!
And let's not forget our sales team here! We always combine business with pleasure (racing) so that means we had a booth where Patrick, Leroy, Daniel and Ruud where there for you, ready to answer questions, sell items and helping out time attack drivers with new parts so they could get back on track asap. And let's not forget our Promogirl Caresse, you rock!
Celebration:
Time for the podium! We closed our pitboxes and went off to the start of the pitlane where the podium is. Let's get the party starting! Champagne shower while getting the 1st place in the European Time Attack masters NA Class!!!
Our driver Ronald Gosens was called another two times to get onto the podium and finally left with 3 cups! The last bottle of champagne was used in the pitlane to splash out on our team among some bystanders, sorry people…
A word from our driver;
Ronald Gosens: "Personally I am really satisfied about this season, we have shown that you don't need 700 BHP and big ass turbo's to kick some ass and have huge fun! Our normally aspirated Honda Integra R has a different motto: "Corner speed is the key!"
I want to thank everyone in our team again and am really looking forward to next year. We will improve our car and come back stronger! "
Thanks everybody for reading this and for watching us and thanks to the organization for making it all possible. If you have pictures/video etc of last weekend, share them with us by email, twitter, facebook etc! Tag #showoffimports and we will find it!
And hope to see you all next weekend where we have our last event of this year: 100% Tuning. No racing this time but in Ahoy Rotterdam we for sure will have a good representation of Showoff Imports for you!
PS: We have some cool onboard video as well, it will be uploaded soon.
:BC Racing, cpz, etam, european time attack masters, hel performance, Integra, Showoff Imports, timeattack, Ultra Racing, Zandvoort