by Ronald on Mar.19, 2013, under General, Race events
Yes! It was time for the first race of the season! Hereby a summary of the day, from a drivers point of view;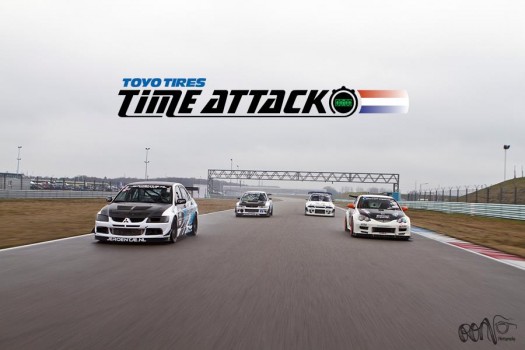 Click 'continue reading' for a detailed 'log book' of my day!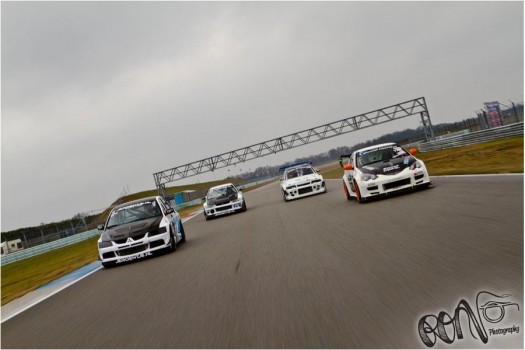 Saturday 17.00: On our way to Assen: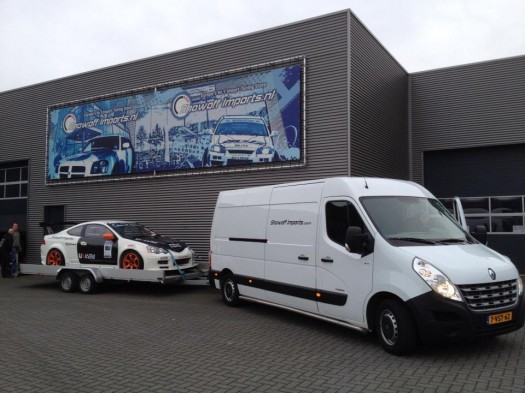 Saturday 21.00: After a HUGE pizza with kebab we arrived in Assen, meeted with the guys from HCNRacing/Petroworkz and quickly unloaded the car for a technical inspection by the Time Attack organisation. The car was approved and we went to our hotel.
Sunday 07.00: Started to decorate our pitboxes with our Showoff booth material. Meanwhile our mechanics Reinier, Peter and Toine were preparing the car, fuel it up, check damper settings, etc.
Sunday 12.00: Invited for a rolling photoshoot, of course we do that! The result will be in the next Automaxx magazine, and a sneak preview can be seen above, the main picture of this post.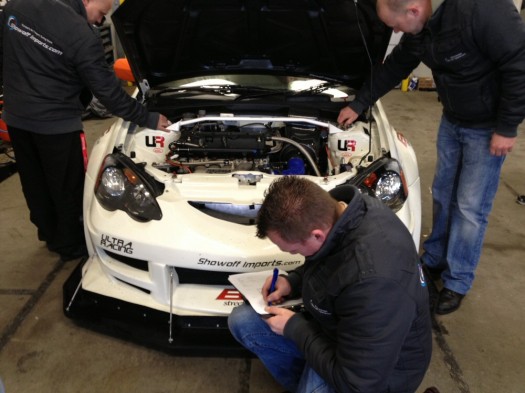 Adjusting some settings for a wet track! Reinier was writing down everything we changed!
Sunday 15.00: Warmup Session 1st place!
It is on! Warmup laps on a track that was wet after a lot of snow earlier the day. In the pitlane all drivers were informed (again) by race controller Paul about the fact the track was VERY slippery. Green lights: I (Ronald) started and drove a slow first round, trying to warmup tires and car, and especially look out / test the wet corners for grip. And yes, they were right, it was slippery. After the 4th corner I had to brake for one of the UK drivers who spinned his Skyline. 100m futher I saw Misha (team Jeroentje) in the wall with his uber-scooby! First round: 2.25 or something. Second round, 2.20, third round 2.15, etc… each round just a bit faster and trying to deal with the wet spots/corners better and better. Some corners it became tailhappy but nothing uncontrollable.
Result: 1st place in our class (Super Pro) and 2nd place overall (including Extreme Class). Yeah! That gave us confidence for the rest of the day.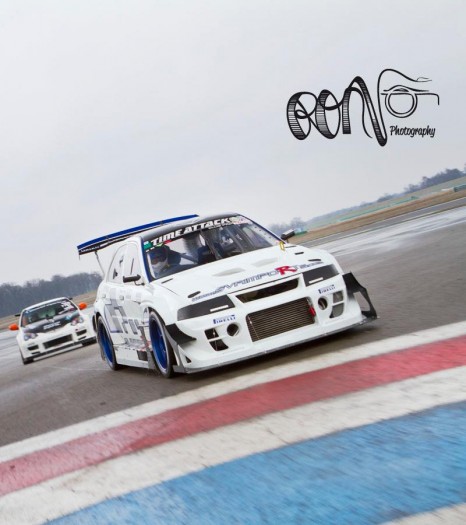 Here you see me chasing the best car of the day, and the only one with a better time in warmup session: The SVA EVO: 4WD 650+ HP TURBO Mitsubishi EVO versus FWD 300HP NA Honda Integra, it was no match… could catch up in corners, but as soon as we could open the gas, I saw a big black cloud of smoke and BAM! Gone was the EVO! Respect!
Sunday 15.20 Back in the pitbox! Told the mechanics I felt the steering wheel shaking during the last lap, so we jacked it up and found 1 bolt of our suspension came loose. That's the downside of hard engine mounts and a stiff suspension setup… Anyway, easy fix!
Sunday 16.40: Qualifying session! 1st place
The track was not so wet anymore and the race lines were pretty much dry now. There was an oil/fuel spill of someone so still everyone had to be extra carefull. Again this session I would see quite some cars spinning, gladly nothing serious happened to anyone! Warmed up the car and tried some hot laps. Car was handling very well and the result was again 1st place in our class (Super Pro)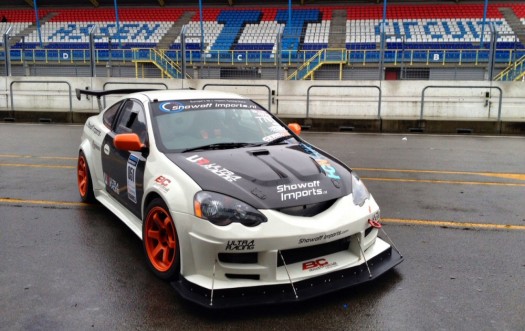 Up to the finals! The track was pretty much dry now. In our pitbox we adjusted the tires, damper settings and wing position back to what we used 3 weeks before on a dry track. Since that time (march 1) was still 2 seconds faster than our best times this day (march 17) we were pretty sure we could 'nail this one' and finish first place in the finals!
Sunday around 17.20: The FINALS!
After a photo moment, where some hot (but freezing) gridbabes posed with the cars, it was on! I started and wanted to warmup the tires. The finals are different from the 2 previous sessions: Warmup and Qualifying is a time window of 20 minutes to set your best lap. The finals give you only one chance, you have an inlap, HOT LAP and out lap. Anyway, in the slowest corner of the track (strubben) I spinned my Integra. I tried to recover it but couldn't avoid ending up off track. It looked like this: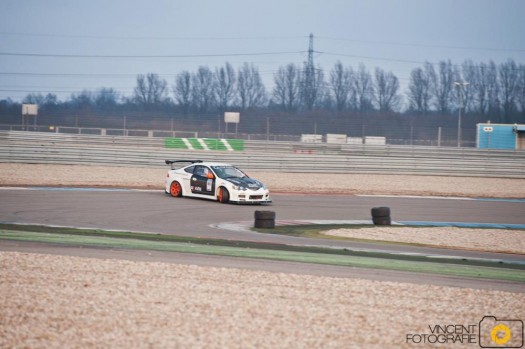 I got a quick recovery from the marshalls who pulled me on track again. So I safely continued the first inlap and prepared my car for the hot lap. After the GT corner, the straight was in front of me and I gave it all I could, for 50 meters… then the black/white checkered flag was there and I released my gas. Why did I get a checkered flag? I had no idea, but one thing for sure; Never ignore flags… So I continued the lap as an outlap and drove into the pitlane, still no idea why I had to stop. Immediately our mechanic said even the speaker commented to the public that my race was ended BEFORE I had a chance of my hot lap. Our guys contacted the Time Attack organisation and after 10 minutes or so I got a green light and was allowed to make 1 hotlap. But since the 'open track sessions' were already started I had to drive between those cars. I said it was better then nothing, they advised me to hurry up and off I went, started a new inlap and preparing for my hotlap!
After some corners I saw the marshalls signing with black flags (for those who are not familiar with it: It means disqualified, go into pit!) and pointing to me from every track post. Many things went through my mind but I decided to get of the gas and AGAIN drove back into the pitlane. A woman of race control rushed towards me and was pretty angry, how dare I go on track during an 'open track session'. I explained he SHE was the one who gave me a checkered flag 20 minutes before while I still had do to my hotlap, even told her that I was not mad about that first mistake, anyone can make a such a mistake and I calmly explained that the Time Attack organisation tried to 'fix' this mistake by allowing me on the track again! And yes, I was pretty angry about the fact they made a SECOND mistake by giving me a black flag! Obviously Time Attack organisation and TT Circuit Race control didn't communicate this well between each other and it resulted in a day without a chance in the finals and as it seems now the chances for the championship are also pretty much ruined because of this. I hope to have a honest and open chat about this with the organisation soon.
So our day ended in a big disappointment, BUT the good news is the fact we are confident about this car now! Soon we will make some new modifications and try to improve it even further! And except for this 'finals-issue' we had a great day with the team and thumbs up for some of the guys in the organisation who at least tried to help us out!
Some extra pictures of the day: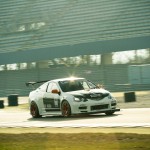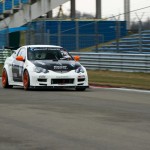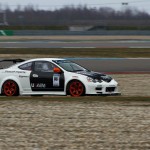 Soon we will upload some (on board) video of this day.
Photocredits: Ronald Veth, Alex Meedendorp, Rich Sams, Vincent Fotografie.
Personally I want to thank everyone in our Showoff Imports team and the HCNRacing/Petroworkz guys! for their support!
:Assen, streetpower, timeattack