by Ronald on Aug.16, 2013, under General, Media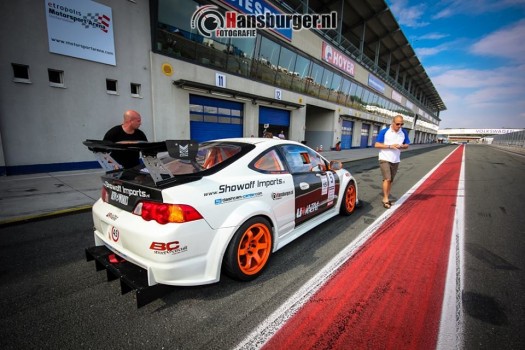 For the first time our Showoff Imports team went over to Reisbrennen in Germany, an event with thousands of Japanese car enthusiasts! We were pleasantly surprised to see such an event this big with tuning on all levels. Our main goal was competing in Time Attack there. Reisbrennen took place at Motorsport Arena Oschersleben, a place far far away for us, but we made it
Video of one of the sessions, showing some practive laps, and 1 or 2 hotlaps:


We have spoken to a lot of customers there, as well as dealers. We also noticed the good atmosphere among the visitors, everybody respected each other as it should be!
You could find our booth on the main paddock (all the blue flags).
Another reason for our visit was TIME ATTACK; Together with team Jeroentje we were invited as guest drivers to represent Time Attack in The Netherlands. This time we had a new driver: Reinier Goorden, who so far spend most of his time in building the car as well as getting the perfect setup. So we had a new driver on a new track, both still he managed to do some good laps, ending in a 1.52 minute time. In the finals he had to quit because the window was falling out of the car unfortunately, that's the spirit: Drive FAST, windows fly out
It was a fun competition and as only Honda, only FWD car and one of the few N/A cars (or as the Germans say: Sauger!) we are satusfied with the result. Thanks everyone for your support and we will be there next year again for sure! Probably then we will not only do Time Attack but also bring a larger booth to show and sell our products there.
PS: Just 1 small complaint: As Dutch people we tried to get the party zone going at night but unfortunately the DJ had only 1 song in his playlist, that lasted for 4 hours… Missed chance!
:reinier, reisbrennen, timeattack