by Ronald on Jun.01, 2010, under DC5 specs
The long awaited spec list for our Time Attack DC5:
The most asked question during the last 2 months was: 'What are the engine specs gonna be?' Well, the stock JDM K20A will become a 2.2 VTEC 'all-motor' (NA) monster, built with Skunk2 and Cosworth Internals!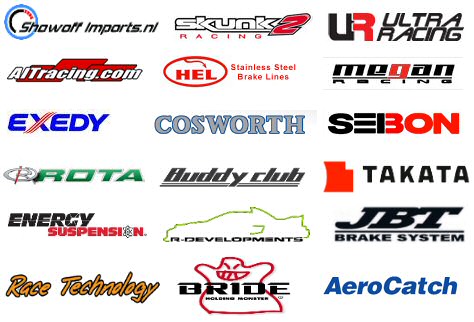 The full speclist can be found below:
Engine:
JDM K20A 2.0 Engine with 2.2 Liters Stroker Kit, upgraded by R-developments.com
Cosworth 90mm 12.5 :1 pistons
Cosworth Lightweight Connecting Rods
Cosworth Bearings
Darton MID ductile cast iron liners / sleeves
Upgraded Oil pump
Upgraded Injectors (RC)
Skunk2 Exhaust Cam Gear
Skunk2 Titanium Retainers
Skunk2 Spring Base Kit
Skunk2 Stage 2 PRO Camshafts
Skunk2 PRO Series Valve Springs
Skunk2 Timing Chain Tensioner
Skunk2 Composite Fuel Rail
Skunk2 PRO Series Intake Manifold or ITB's
Skunk2 PRO Billet Throttle Body 70mm
R-Developments Oil Baffle Sump
Exedy Hyper Single Carbon Clutch/Flywheel
Fuel Pressure Regulator
Reinforced Engine Mounts
+ Some special modifications, inside information.
Electronics:
Hondata K-Pro Tuned ECU
Race Technology Digital Dashboard + data logging
TyreSure Tyre Pressure Monitor
DFI 52 / 60 mm Smoke Stepping Drive Gauges
Brakes:
HEL Performance Brakelines
HEL Performance Brake Force Distributor
JBT Front Big Brake Kit
Brembo Rear Big Brake kit
Option to OBP Pedalbox
Cooling:
HEL Performance 19-Row Oil Cooler
HEL Performance PAS Cooler
Megan Racing XL Aluminium Radiator
Skunk2 Reinforced Silicone Radiator Hoses
Exhaust:
Buddyclub / Megan Racing Catback System
Megan Racing JDM 1-Piece Stainless Header
Megan Racing Catalyst Convertor – Testpipe
Weight Reduction:
Seibon Carbon Doors
Seibon Carbon Trunklid
Seibon Carbon Hood
Poly Carbonate Windows
Aluminium Fuel Cell
Fully Stripped Interior
Safety:
Showoff Custom Made Full Welded Rollcage
Bride Fia Approved Racing Seats Carbon
Takata 5-Point Seatbelts
Suspension and Wheels:
Full Customizable Track Suspension system with external oil reservoir.
Skunk2 / Function 7 Rear Lower Control Arms
Skunk2 PRO Adjustable Camber Kit Rear
Buddyclub P1 Roll Centre Adjusters
Ultra Racing Front Upper 4-Point Strutbar
Ultra Racing Front Lower H-Brace
Ultra Racing Rear Lower H-Brace
Ultra Racing Front Swaybar
Ultra Racing Rear Swaybar
Ultra Racing Fender Brackets
Energy Suspension Hardened Rubber Master Set
ROTA 17 Inch 9J Ultra Light Wheels
+ Some special modifications, inside information.
Aerodynamics:
Showoff Custom Made 8-Piece Bodykit
Showoff Custom Made Carbon Front Splitter
Showoff Custom Made Carbon Rear Diffuser
Megan Racing Carbon Rear Spoiler MD62
And of course lot of extra's that aren't mentioned here (yet)…